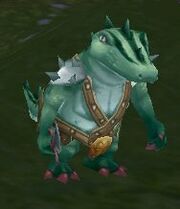 Level
38
Attack Type
Melee
HP
?
Locations
Moon Blind Swamp
Gold
192~364
Aggro
Short
Special Attacks
?
Boss
No
Item Drop
based on .. kills

1~3 Iron Ore (..)

#..

Ruby (..)

#..

Iron Mold: Dagger (..)

#..

Animal Leather
Wiesel
Heart Stone Piece

Equipment Drop
based on .. kills

Lizard Costume Boots
Lizard Costume Gloves
Lizard Costume Mask
Lizard Costume Body

Shoes of Light

Absolute One's Shoes
Great Tabbard Axe
Battle Hammer
Destruction Spell's Robe
Ad blocker interference detected!
Wikia is a free-to-use site that makes money from advertising. We have a modified experience for viewers using ad blockers

Wikia is not accessible if you've made further modifications. Remove the custom ad blocker rule(s) and the page will load as expected.