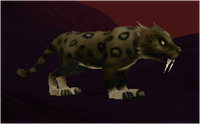 Level
42
Attack Type
Melee
HP
8529
Locations
Haunted Mines Second Floor
Gold
1176~1803
Aggro
Short
Special Attacks
None
Boss
No
Item Drop
Equipment Drop
Walk Quotes

I think someone called me, but I can't remember.
Found a weak point!
My head hurts...Ow
This place is much bighter where I used to be.
I feel tired...
I want to eat. I want to humans.
My special skill is a sudden attack.
Elf meat is a delicacy
I have to get a manicure. Someone lend me the tools.
Can you see my attacks in this darkness?

Death Quotes

Why do I have to die in this place?
How can I be defeated so easily defeated?
My companion is watching you from the darkness.
Ad blocker interference detected!
Wikia is a free-to-use site that makes money from advertising. We have a modified experience for viewers using ad blockers

Wikia is not accessible if you've made further modifications. Remove the custom ad blocker rule(s) and the page will load as expected.