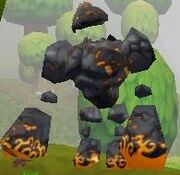 Level
35
Attack Type
Melee
HP
613
Locations
Moon Blind Forest
Gold
171 ~ 311
Aggro
Short
Special Attacks
Flame Destruction Lv.7
Boss
No
Item Drop
based on 300 kills
Equipment Drop
based on 300 kills

Fighter's Combat Gauntlets

Plate Gauntlets (1.33%)
Plate Armor (0.33%)

Guardian's Combat Heavy Armor

Salvation Combat Boots (1%)

Furious Storm's Leather Long Boots (0.33%)

Walk Quotes

I'm stupid? Hoohoo, that's true, but it makes me feel bad.
Don't assume that I'm stupid just by looking at my appearance.
Golem, but it's ok.
My body itself is a weapon!
No one can leave a scar on my body!
I'm too heavy. I should be on diet.
What? Do you think it's a boiled egg on my head? That's wrong. It's a BROILED
I'd swim but I'd rust...
My body is burning!
We are never hungry.

Death Quotes

Ah! I can't believe that the skill I learned from Mr.Fedor isn't working...
Gosh... My body is breaking down...
I'm dying byt I don't feel any pain.
I'm sad that I'm slow.
Alright, alright! I'll give you my boiled egg.
---
Ad blocker interference detected!
Wikia is a free-to-use site that makes money from advertising. We have a modified experience for viewers using ad blockers

Wikia is not accessible if you've made further modifications. Remove the custom ad blocker rule(s) and the page will load as expected.