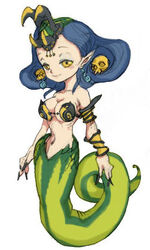 Level
40
Attack Type
Melee
HP
710
Locations
Moon Blind Swamp
Gold
199~380
Aggro
Medium-Short
Special Attacks
None
Boss
Timat
Item Drop
Equipment Drop
based on 50 kills
Walk Quotes

The Miss Lamia contest will be open soon.
I'm worried that my skin got worse recently.
I'm hungry, but I'll deal with it a slim body.
Hehehe, I look pretty when I smile too.
Will I be popular if I have scales too?
Looking for a sweetheart. Please contact me through ultrasonic waves or brain.
The only difference between us and the mermaids are the scales.
I feel good that the air is sticky.
I don't have time to do my hair.
I feel Like the Orcs are looking at me in a weird way.

Death Quotes

Alas...Beautiful women live short lives...
You are ... Cruel...
Ah...A flower is falling...
Ahhhh!
If beauty is a sin, I would die with a happiness.
Ad blocker interference detected!
Wikia is a free-to-use site that makes money from advertising. We have a modified experience for viewers using ad blockers

Wikia is not accessible if you've made further modifications. Remove the custom ad blocker rule(s) and the page will load as expected.