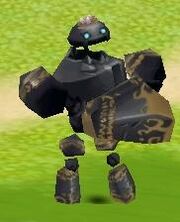 Level
29
Attack Type
Melee
HP
485
Locations
Zakandia, Tarintus
Gold
123 ~ 244
Aggro
Short
Special Attacks
Reduced Physical Defense Lv.12
Boss
No
Item Drop
based on 200 kills
Equipment Drop
based on 200 kills
Walk Quotes

I'm stupid? Hoohoo, that's true, but it makes me feel bad.
I'm too heavy. I should be on a diet.
No weapon can pierce through my super skin!
Golem, but it's okay.
No one can leave any scar on my body!
It's hard to move with this heavy body.
I really like the showy pattern on my body.
What? Do you think it's a boiled egg on my head? That's wrong. It's a BROILED
I'm not moving forward even though I walk hard.
Don't assume that I'm stupid just by looking at my appearance.

Death Quotes

Oh, I'll give you my broiled egg.
Gosh... My body is breaking down.
I can't believe that my steel body is broken by someone like you.
I'm sad that I'm slow.
Let's meet again after I get repaired.
---