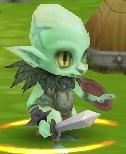 Level
18
Attack Type
Melee
HP
309
Locations
Zakandia Outpost, Zakandia
Gold
64 ~ 124
Aggro
Special
Special Attacks
Bleed Lv.2
Boss
No
Item Drop
based on 50 kills
Equipment Drop
based on 50 kills
Walk Quotes

If I had to make a choice... I would choose food!
Let's start fresh today with soldier's dignity!
I'm a goblin soldier with pride! Hah!
I heard that our king has a lot of treasures...
If only I had a little bit of the king's treasure...
I can't forgive those who are bigger than me!
What is the purpose of living? I'm wasting my time meaninglessly...

Death Quotes

Ugh!
Ugggh help...
This one was too strong...
My vision is becoming blurry...
I won't resist any more!
Notes: Goblin Warriors located in Zakandia Outpost have a short aggro range, while those in Zakandia have a long range.
---