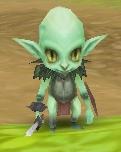 Level
17
Attack Type
Melee
HP
296
Locations
Zakandia Outpost, Zakandia
Gold
63 ~ 118
Aggro
Short
Special Attacks
Speed Reduce (Lvl 1)
Boss
No
Item Drop
based on 50 kills
Equipment Drop
based on 50 kills
Walk Quotes

One! Two! One! Two!
Is my face that ugly?
If I had to make a choice...I would choose food!
Stay away from me!
La la la! Today's nice!
La la la...Another day...
I heard that our king has a lot of treasures...
If only I had a little bit of the king's treasure...
I can't forgive those who are bigger than me!
What is the purpose of living? I'm wasting my time meaninglessly...
I want to have shinier weapons.

Death Quotes

Ugh!
Ugh, help!
My vision is becoming blurry...
This one is too strong...
---
Ad blocker interference detected!
Wikia is a free-to-use site that makes money from advertising. We have a modified experience for viewers using ad blockers

Wikia is not accessible if you've made further modifications. Remove the custom ad blocker rule(s) and the page will load as expected.