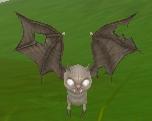 You may be looking for Eyebat
Level
32
Attack Type
Melee
HP
548
Locations
Moon Blind Forest
Gold
142 ~ 285
Aggro
Long
Special Attacks
None
Boss
No
Item Drop
based on 300 kills
Equipment Drop
based on 300 kills

Silent Forest's Leather Gloves

Wand of Faith (0.33%)
Divine Robe (0.33%)

Nature Energy's Leather Armor

Silent Forest's Leather Armor

Water God's Shoes

Walk Quotes

The director didn't let me have a seat and rest!
Don't sit too close to the monitor when you're using a computer.
I muscle ache in my shoulders because I keep flying.
I didn't have plastic surgery on my eyes just because they are big. These are all
It doesn't feel good having other around me with the same face.
Did I gain too much weight? I can't fly high.
If I don't pay close attention to my eyes, they might pop out.
Who tore up all my wings?
Whew, if I stop flapping my wings, I'll fall down.

Death Quotes

Ah, if only the golden bat was here.
I'm not really dying...
I actually wanted to be a bird...
Finally, I can have a rest on the floor...
---