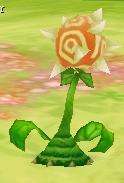 Level
3
Attack Type
Magic
HP
96
Locations
The Gate of Alker
287, 227
Gold
1 ~ 5
Aggro
Short
Special Attacks
None
Boss
No
Item Drop
based on 50 kills
Equipment Drop
based on 50 kills
Walk Quotes

Not pretty, but lovely!
Yum yum...Nobody is supposed to touch me while eating. Would anybody do
Ah, I feel bored. I want to attack somebody!
I'm thirsty. Someone give me water!
I want to move around like the others do.
Who said that my head is like a mace?
Is there any flower that's prettier than me?
I feel fortunate to have my brothers around me. It's boring to be alone.
Where am I from? I must have been a seed when I was young, huh?
Hahaha! My proud leaves!

Death Quotes

I will come back as a beautiful flower after being reborn as a seed...
I could have run away if I had legs...
It was going to beat you nicely...
Ah! It's time to go back to the land...