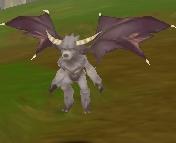 Level
34
Attack Type
Melee
HP
572
Locations
Moon Blind Forest
near Spined Hills
Gold
158 ~ 306
Aggro
Long
Special Attacks
Freeze Lv1
Boss
No
Item Drop
based on 150 kills
Equipment Drop
based on 150 kills

Salvation Combat Heavy Armor

Guardian's Combat Gauntlets

(0.67%)

Destruction Spell's Gloves

Walk Quotes

Don't you think I'm the best-looking among all of those who fly?
My horns are tickling
You better not mess with me.
I want to fight with pocket monsters someday.
Catch me if you can!
These days I feel like I'm becoming dull.
Aren't there any strong ones?
You're thinking that I'm a flying monster because I'm flying... That's right!
I should find a day to fix my wings.

Death Quotes

Ahhh... It's an honor to be beaten up by a strong one like this.
Hmmm... The air is somber and nice.
How could I lose this so easily...
Don't spread the news of my death.
The last attack... was cool...
---