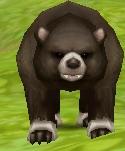 Level
22
Attack Type
Melee
HP
377
Locations
Zakandia Outpost, Zakandia
Gold
84 ~ 168
Aggro
Short
Special Attacks
None
Boss
Gyer
Item Drop
based on 50 kills
Equipment Drop
based on 50 kills

Hard Leather Gloves (4%)

#2

Hard Leather Armor (..)

#0

Leather Gloves of Meditation

(..)

#0

Leather Long Boots of the Fierce

(1%)

#0

Leather Long Boots of Meditation

(..)

#0

Bear Leather Belt

(..)

#0

Walk Quotes

Dandies like the color black. Black like my leather.
Grrrrrrrr!
Why can't I be on the commercial with the polar bears?!
I have a friend that eats honey and likes wearing red shortsleeved t-shirts.
I'm starting to feel hungry again.
It still feels like I'm in hiBEARation! Get it?!
Bowwow! Wait no, Grrrrrrrrrr!
Blech. It's really hotin this thick leather.
Ah, I don't feel like doing anything.

Death Quotes

Strong one... I'm exasperated...
Ah, if only I'd eaten mugwort for one more day...
Please make a good use if my gall..
You are the strongest fighter I've seen since that baby dinosaur.